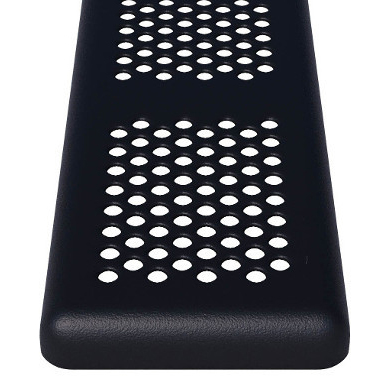 Perforated metal picnic tables have theroplastic top and seats made of 11 gauge large hole (3/4") precision punched plastic coated steel with radius edges inside a metal frame. The Perforated series picnic table is a unique style that would complement a school or food court. Our Perforated Style thermoplastic picnic tables come in a variety of shapes, sizes, and mounting options. We have everything to meet your needs! Perforated Picnic Tables include rectangular, square, and round commercial thermoplastic picnic tables.
5 Year Manufacturer's Warranty On All Thermoplastic Picnic Tables!
Why should I choose Thermoplastic?

First, we have a 5 year manufacturer's warranty on all thermoplastic picnic tables! Thermoplastic picnic tables are built to last! With Thermoplastic you can assure that it will serve many years, even in areas that have 24/7 exposure to the public. We have a variety of 16 colors and 3 frame styles to meet your needs. The perforated style has many options for ADA compliance, 4 seats, 3 seats, or whatever your business needs are.